Hosking Trailers design & manufacture quality NZ made boat trailers. that are built to tackle any weather and water conditions without sacrificing support on the road. Designed and built for easy loading and unloading of your boat, you can rest assured that our workmanship and high-quality parts used are guaranteed to make boat transportation a little bit easier.
The majority of our trailers are custom made, specific to each brand, model, and size of the boat. We have been building boat trailers this way for over 40 years. We also have developed a range of multi-fit trailers, these are suitable for most boats under 5m (16ft).
Please contact us for details or if you have questions
Why You Should choose A Hosking Trailer
10 Year Structural Warranty
Up to 5 Year Component Warranty
NZ / Aus Steel
Certified Welders
After Sales Support
Stock & Sell Parts Including Trojan
Free Advice & Estimates
Custom Made Trailers
We specialise in custom made trailers for vessels that are not of a standard design or build. For more information please see the page 
here
All Boats Over 5M Or A Little Bit Special
Whilst getting a trailer custom made for your boat can be a bit daunting we can certainly help you navigate your way through the myriad of choices in order for you to get exactly what you want and need.
Things to consider:
Size: gross vehicle weight rating (GVWR)
Axles: Single or multiple
Lights
Tires
Frame
Brakes
Springs
Rollers
Wiring
Bearings
The Process
Ideally, we would like to have your boat on site while we design and build your trailer (unless we have built a trailer for your exact boat – make, model and size, and then we have workshop drawings we can build off). We design a trailer specifically for your boat, we then build your trailer and load and unload your boat to ensure a complete fit. The trailer at this stage is ungalvanised.  When we are satisfied that the trailer is fit for purpose, we then disassemble it send it to the galvanizers. Once galvanised we then reassemble your trailer and test again to make enable us to make any final fitting adjustments.
Please contact us for details or if you have questions.
Multifit Trailers
For Most Boats Under 5m / 16ft
Our multi fit trailers are suitable for most of the lighter/ smaller models of boat.
These trailers are still very much a 'Hosking Trailer' and of the exact same quality as our custom made trailers. They are built in our factory in Auckland by the same people and with all the same materials as our custom made trailers. We build them in larger production runs and this enables us to keep the cost down, whilst not compromising on quality.
When you purchase a multi-fit trailer we do a final 'set up' only once we know what exact boat is going on it. If possible, we would like to have your boat available to us at our factory so we can fit the trailer specifically to your vessel. This is included in the price.
Multifit Range
Beach Trolley
T-Bar 12ft
T-Bar 14ft
A-Frame 13ft (Multifit 330) – bunks
A-Frame 13ft (Multifit 330) – rollers
A-Frame 14ft (Multifit 440) – bunks
A-Frame 14ft (Multifit 440) – rollers
A-Frame 15ft (Multifit 480) – rollers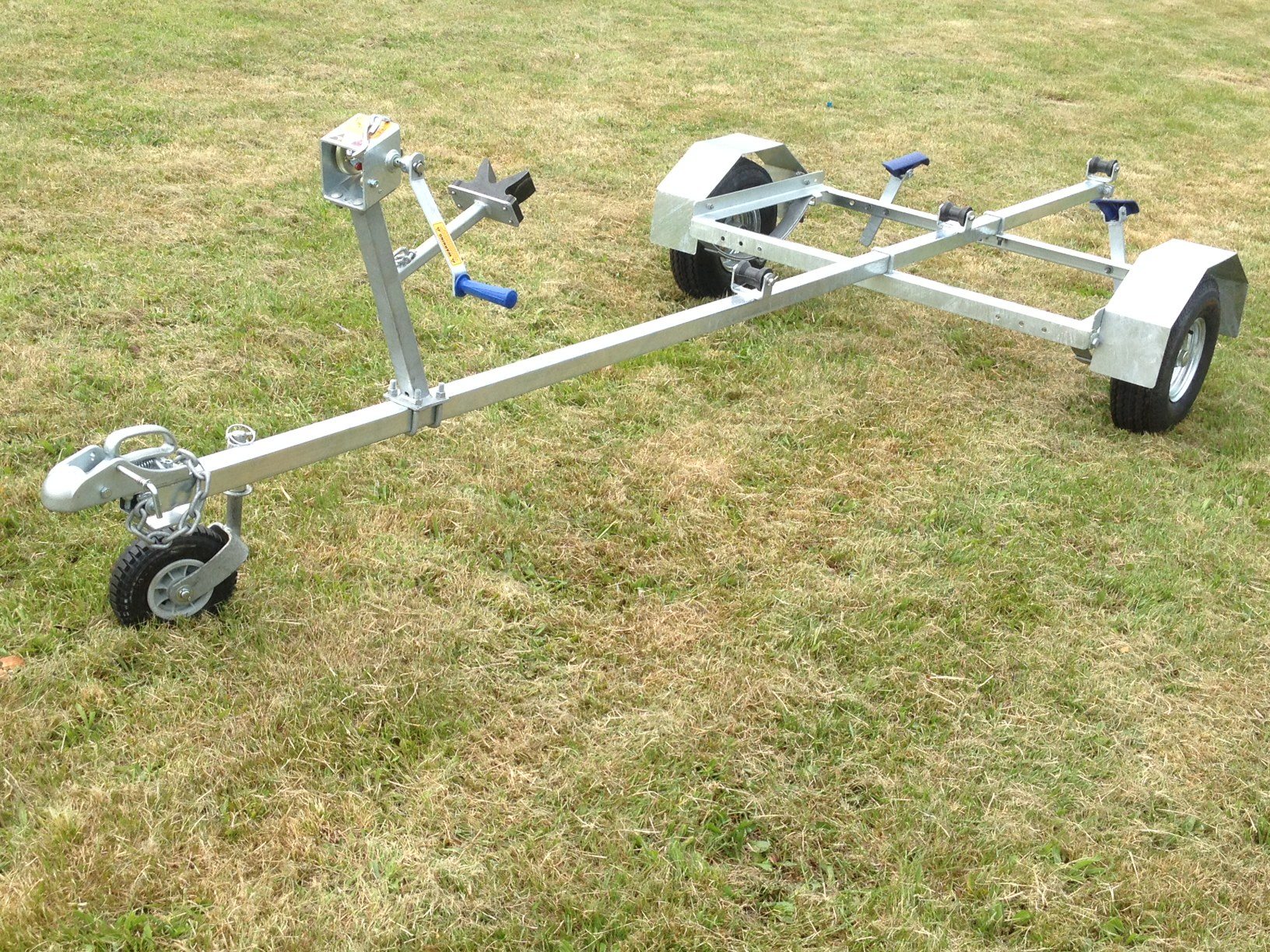 Please contact us for details or if you have any questions.
* Pricing includes fitting, but excludes on-road costs
* Lights excluded on T Bar range (fully wired or light board)