Hosking Trailers specialises in the design & manufacture of quality NZ-made steel boat trailers, built to tackle any weather and water conditions without sacrificing support on the road. Designed and built for a smooth tow and easy loading and unloading of your boat, you can rest assured that our workmanship and high-quality parts are guaranteed to make boat transportation and access to the water just that little bit easier.
Most of our trailers are custom-made, specific to each brand, model, and size of the boat. We have been building boat trailers this way for over 50 years, and it's the secret behind our superior fit and useability. We also have a versatile range of multi-fit trailers, suitable for most alloy or inflatable tube (RHIB) boats under 5m or 16ft.
Please contact us for details.
Why You Should choose A Hosking Trailer
Unrivalled experience and expertise

10 Year Structural Warranty and up to 5 years on components

NZ / Aus certified steel
Certified and fully qualified welders
After sales support
Parts stockist, including market leader Trojan
Full workshop service for long term maintenance and repair
Custom Made Trailers
We specialise in custom-made trailers for vessels that are not of a standard design or build.  We also have the capability to build to Certificate of Fitness (COF) specification on large boat trailers, and we accept commissions for specialist non-marine trailers.  Contact us directly to discuss your requirements.
All Boats Over 5M Or A Little Bit Special
Whilst getting a trailer custom made for your boat can be a bit daunting we can certainly help you navigate your way through the myriad of choices in order for you to get exactly what you want and need.
Things to consider:
Size and weight of the total towed package: boat, engine, trailer, fuel and gear
Your tow vehicle capability and braking requirements
Manoeuvrability (fewer axles) vs on road stability (multi-axle)
Towing surfaces and fixed vs load sharing suspension
Loading / unloading / ball height
Beach or ramp launch, wind/water conditions
Hull construction and vee profile
Galvanised vs alloy wheels
Any parking or storage constraints
Long term care and maintenance
The Process
For the majority of makes and models we will have a specific existing workshop drawing.  If not, or if you have specific requirements, then we have a well-practised process to take certain key measurements from your boat (ideally on site in our yard) from which we then design and build the trailer specifically to fit.   For especially tricky builds we can co-ordinate with you to load and unload your boat onto the fabricated frame before galvanising to ensure a complete fit. After assembly of the completed trailer, the final fitting and adjustment of the trailer to optimise your ease of use (what we call a "boat swap") is part of our service.  For accuracy, guide poles and certain other accessories are measured as part of this fitting process.
Please contact us to discuss your requirements.
Multifit Trailers
For Most Boats Under 5m / 16ft
Our multi fit trailers are suitable for most of the lighter/ smaller models of boat.
These trailers are still very much a 'Hosking Trailer' and of the exact same quality as our custom made trailers. They are built in our factory in Auckland by the same people and with all the same materials as our custom made trailers. We build them in larger production runs and this enables us to keep the cost down, whilst not compromising on quality.
When you purchase a multi-fit trailer we do a final 'set up' only once we know what exact boat is going on it. If possible, we would like to have your boat available to us at our factory so we can fit the trailer specifically to your vessel. This is included in the price.
Multifit Range
Beach Trolley
T-Bar 12ft
T-Bar 14ft
A-Frame 13ft (Multifit 330) – bunks
A-Frame 13ft (Multifit 330) – rollers
A-Frame 14ft (Multifit 440) – bunks
A-Frame 14ft (Multifit 440) – rollers
A-Frame 15ft (Multifit 480) – rollers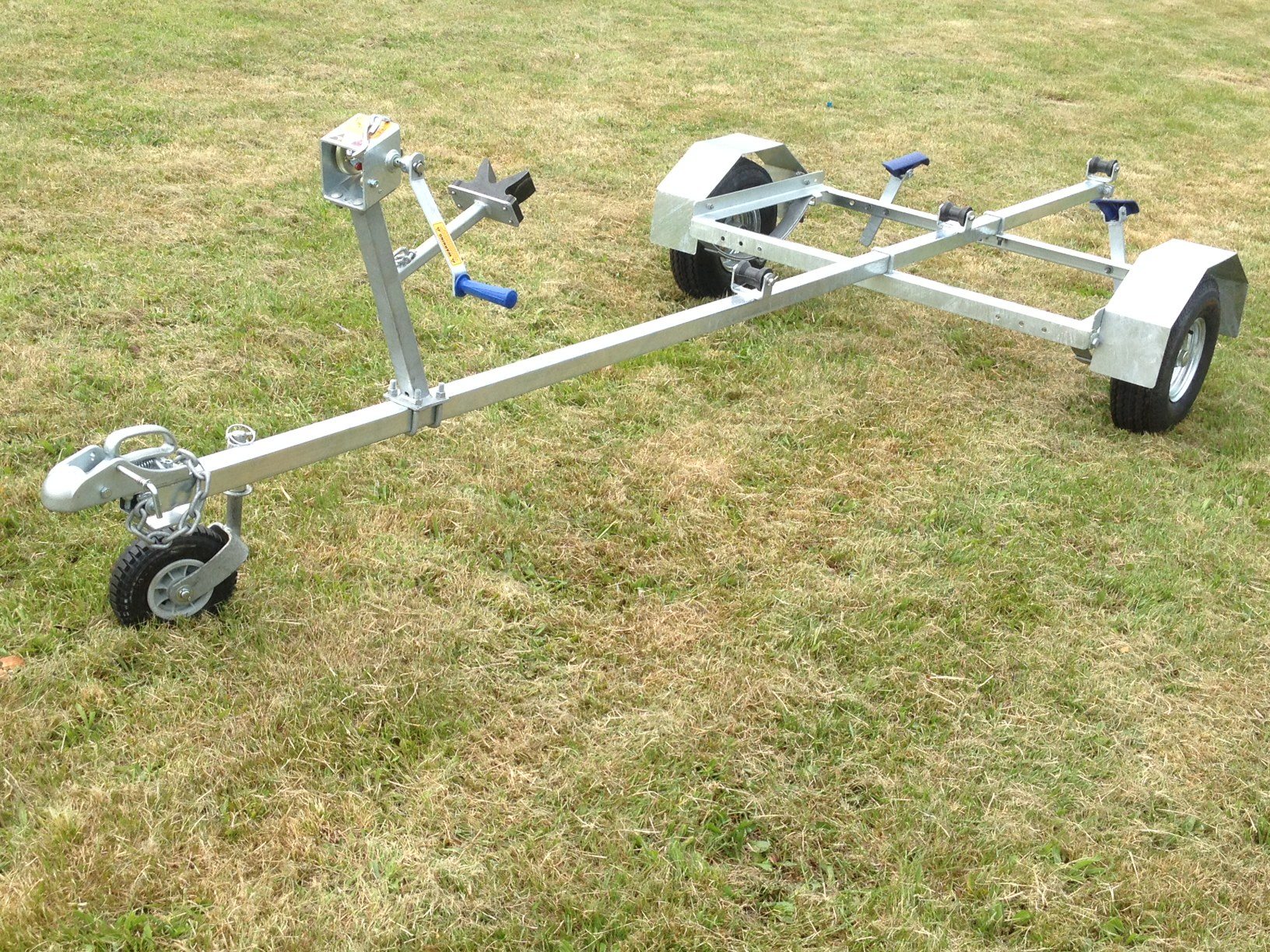 Please contact us for details or if you have any questions.
* Pricing includes fitting, but excludes on-road costs
* Lights excluded on T Bar range (fully wired or light board)